By Emily Viteritti on Apr 23rd 2019
Choosing the right ingredients is important to take your recipes to the next level. At Ingredi, we make ingredients easy, so you know exactly what goes into your products. Our full range of quality ingredients is key to completing your bakery, meat, beverage, beer, and wine recipes. Since we offer premier ingredients, we make sure to work with ethical and safe companies.
Ingredi is proud to announce that we now offer food ingredients from BASF, the second largest chemical manufacturer in North America. BASF's success in the industry has not thwarted their participation in environmental protection, sustainability, and meeting the current and future needs of society.
What is BASF?
BASF Corporation is the largest affiliate of BASF FE, a German chemical company. They also happen to be the largest chemical producer in the world with joint ventures in over 80 countries. BASF Corporation doesn't just create chemicals as they are involved in over ten industries including food, pharmaceuticals, constructions, and electric. Sustainability is a key factor in their strategic decision making.
BASF Products Available
We currently offer four BASF products on our website: T-Maz 80k, Trilon CA, Trilon NA, and Mazol 300k. All four additives are manufactured and packaged by BASF. They are all FDA approved and Kosher and Halal friendly, as well.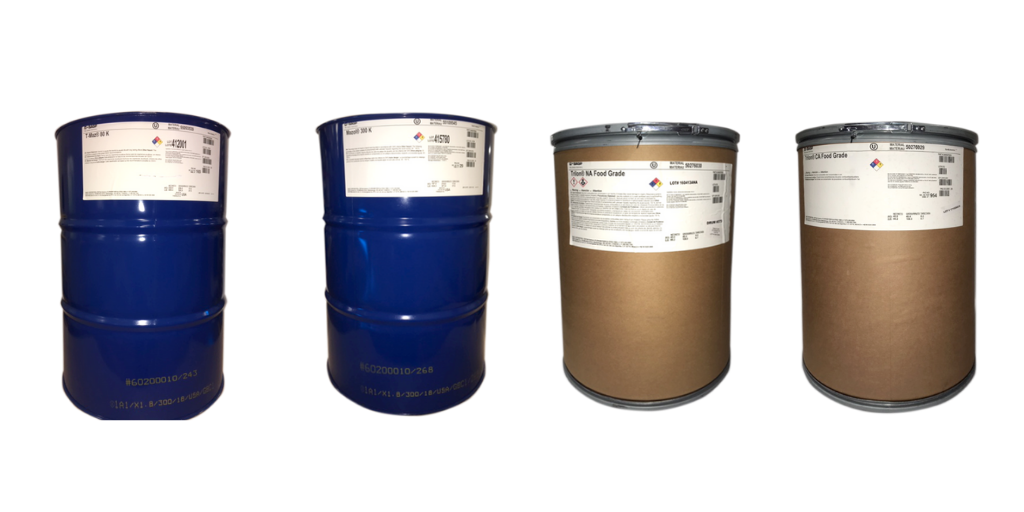 T-Maz 80K
T-Maz 80k,also known as Polysorbate 80, is a sorbitan monooleate that has been ethoxylated with approximately 20 moles of ethylene oxide to give a water-soluble oil and water emulsifier. Essentially, it's a chemical additive used for oil-in-water emulsions, dispersions, and solubilizing oils.
T-Maz 80k can be used in ice cream, shortening, and edible oils, yeast defoamers, pickle products, vitamins and mineral preparations, whipped vegetable toppings, gelatin dessert mixes, defoamers in cottage cheese, and artificial colors in barbecue sauce.
Trilon CA
Trilon CA, or disodium calcium EDTA, is a white, crystalline, free-flowing powder that controls trace metal ions to overcome deteriorative changes in foods. It's essentially designed to prevent food from decolorizing, oxidizing, and developing rancidity better than its substitutes- polyphosphates and citric acid.
Trilon CA's applications include carbonated beverages, dressings, and sauces (French dressing and Mayo), fish and shellfish, fruits and vegetables, pickled vegetables, potato products, shortening, fats and oils, vitamin stabilization, and animal feeds.
Trilon NA
Trilon NA (Calcium Disodium EDTA) is a white, crystalline, free-flowing, relatively non-hygroscopic powder combination of dihydrate and trihydrate forms. It is like Trilon CA in that it prevents spoilage and preserves flavor and color. However, Trilon NA is more effective at preventing canned foods and beverages from developing a metallic taste.
Trilon NA's applications are the same as Trilon CA's applications. It can be used in carbonated beverages, dressings and sauces (pourable dressings), fish and shellfish, fruits and vegetables, pickled vegetables, potato products, shortening, fats and oils, vitamin stabilization, and animal feeds.
You can learn more about Trilon NA in this blog post.
Mazol 300K
Mazol 300k, also referred to as Glycerol Monooleate, is a mixture of glycerol monooleate and propylene glycol. It is a white, odorless, sweet-tasting, flaky, hygroscopic powder used as an emulsifier, thickener, and preservative.
Mazol 300k is a lipophilic emulsifier used in flavoring agents, baked goods, baking mixes, beverage bases and processed meats (as defined in §184.1323 of Title 21 Code of Federal Regulations.) Plus, it can also be used with hydrophilic emulsifiers like T-Maz 80k.
What This Means for You
Ingredi offering four BASF products that currently you can only buy online means more benefits for you! You can buy knowing that you are receiving top-quality products from a well-trusted and safe brand. Plus, you can save 5% on your first order when you sign up for our newsletter!
---
Sources:
https://www.basf.com/us/en/who-we-are/sustainability.html
https://www.basf.com/us/en/who-we-are.html
https://en.wikipedia.org/wiki/BASF