By Emily Viteritti on Mar 15th 2019
St. Patrick's Day is a fun-filled holiday celebrating all things Irish. Cities around the U.S. host parades, concerts, pageants, and other festivities for their Irish (and non-Irish) residents; however, some cities go above and beyond their love for the holiday by dyeing their rivers green.
Here's a list of all the cities in the U.S. that dye their rivers green for St. Paddy's Day.
Chicago, IL
The Chicago River is perhaps the most well-known river dyed on St. Patrick's Day and for a good reason considering over 400,000 onlookers emerge each year to witness the river's emerald green makeover. This fun tradition has a unique origin story completely unrelated to St. Patrick's Day.
The year was 1961, and the Chicago River was polluted with sewage. Chicago's Mayor, Richard J. Daley, wanted to find the culprit who was ruining the waters; therefore, he authorized special green dye to be poured into a portion of the river to see where the dumping originated. This project gave Stephen Bailey—a friend of Daley's and the city's St. Patrick's Day Parade chairman—the bright idea of turning the entire river green using orange powder (a secret formula).
Thus, the St. Patty's tradition began and continues to this day. The 64th annual St. Patrick's Day Parade begins Saturday, March 16th. The dyeing process starts at 9 am, and the river only stays green for roughly 5 hours.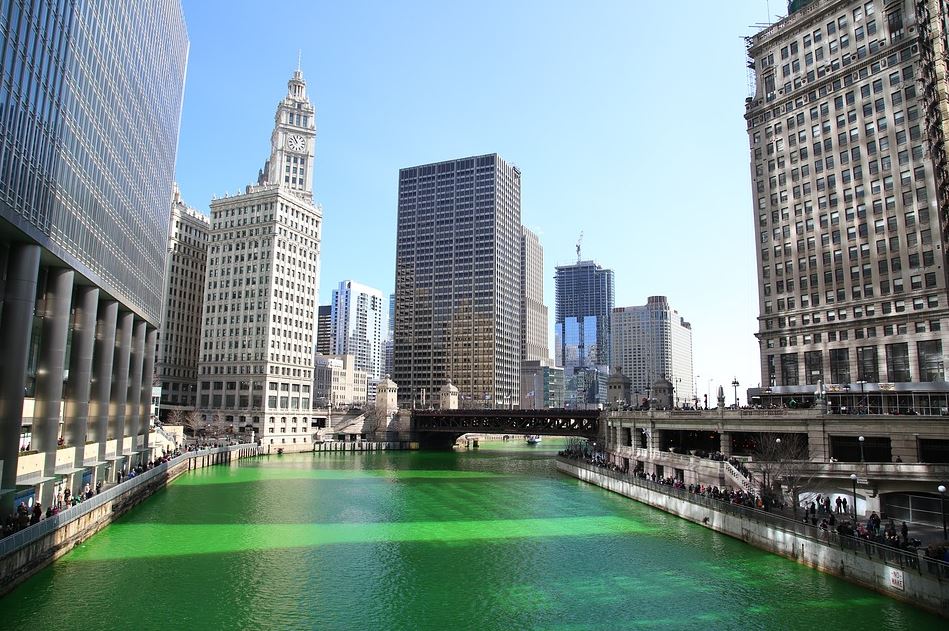 San Antonio, TX
The next city to follow suit was San Antonio in 1968. While Chicago had a pollution problem, San Antonio's River Walk had a financial problem regarding tourists: they had none. A group of River Walk business owners wanted to attract more tourists, so they obtained military-style dye marker packs originally used by parachutists to make the San Antonio River fluorescent green for St. Patrick's Day. This practice continues today, although they now use an eco-friendly dye in place of the dye marker packs which refused to dissolve. Over 75,000 people witness the greening of the river each year, and 50,000 others watched it via Facebook Live in 2018. Unlike the Chicago River's green dye which only lasts a few hours, the San Antonio River stays colored for 2-3 days.
Savannah, GA
Savannah was the first city to dye their river green. So, why does Chicago get all the fame? It's because Savannah failed miserably. When they tried to dye their river green in 1961, it all filtered away due to the fast-moving tide (the opposite issue San Antonio had). This anti-climactic result led Savannah to dye just nine fountains throughout the city. The most famous fountain dyed green is the Forsyth Fountain.
Indianapolis, IN
While Indianapolis doesn't dye a river for this holiday, they do dye the Downtown canal. Greening of the Canal is on March 14th (earlier than the other cities' festivities) where live music and dancing also occurs. This will be the 23rd annual dyeing of the canal, and the green coloring is expected to last 2-4 days.
Charlotte, NC
Charlotte takes a fun twist on turning a river green; they also attempt to dye people green. The U.S. National Whitewater Center will host its 10th annual Green River Revival, a full day of fun St. Patrick's Day themed festivities, on March 16th. Before dyeing their river and canal green, USNWC offers a 5k run where participants try to avoid (or indulge) in the green dye placed throughout the trail system. The river is then turned green in the shape of a four-leaf clover.
Tampa, FL
Unlike the previously mentioned cities, Tampa is new to dyeing its river green. On March 16th, the Hillsborough River will turn green for its 8th time. A non-toxic dye, the same used in food and during eye surgeries, is used to transform the river. The dyeing process is like Chicago's because they both use an orange powder that changes the water green for 5 hours.
Washington, D.C.
Chicago's tradition was brought to the White House during the Obama administration. Former first lady Michelle Obama grew up in the Windy City, so she wanted to pay homage to her hometown's tradition by dyeing the North Lawn and the South Lawn fountains bright green. This tradition has carried on with Trump's administration, and the fountains will once again be dyed green in honor of St. Patrick's Day.
Dye Your Own Water Green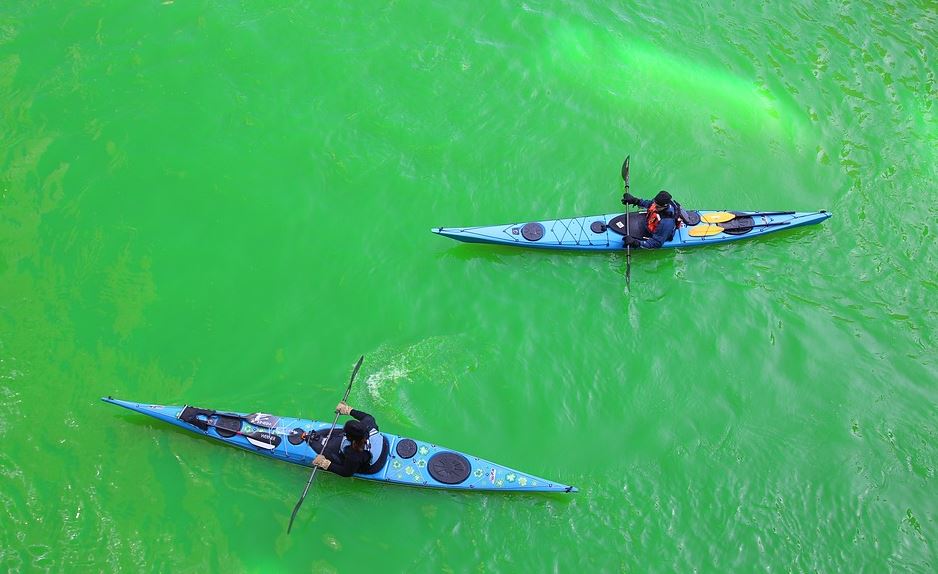 Getting into the St. Patrick's Day spirit is easy with Ingredi.com! We carry food grade colorants that can be used in your baked goods, your beverages, and even your water! You can shop FD&C Blue No.1, FD&C Yellow No.5, and FD&C Yellow No.6, and other colors at ingredi.com
---
Sources:
https://therivardreport.com/how-the-san-antonio-river-got-its-green-a-st-patricks-day-tale/
http://www.fox13news.com/news/local-news/hillsborough-river-will-soon-turn-into-bright-green-color-for-st-patrick-s-day
https://www.downtownindy.org/events/8020/greening-of-the-canal/
https://www.charlottesgotalot.com/events/festivals/green-river-revival
https://www.app.com/story/entertainment/2015/03/17/green-water-cities-dye-rivers-fountains-for-st-patricks-day/24887801/
http://www.savannah.com/st-patricks-day-events-savannah/
http://mentalfloss.com/article/62220/what-do-they-use-dye-chicago-river-green-st-patricks-day